Join us every Thursday from January 19 - April 27 from 11:30 am - 12:10 pm U.S. ET.   
Note: there will be no webinar on March 16 and March 23. 
Click here to register. Register once for all webinars. Webinars will be recorded and shared with all registered participants. More details on the series can be found here. 
---
"It's a mess!" says series facilitator Brad Gentry, professor in the practice of forest resources management and policy at the Yale School of the Environment (YSE) and director of the research program on private investment and the environment at the Yale Center for Business and the Environment (CBEY). Determining how to link carbon forest activities with national plans for carbon reductions is a major question in tropically forested countries right now, and Gentry explains "there's a worry that companies and governments want to put money into these markets, but if it's too much of a mess, they will invest elsewhere. So how can we determine that they are helpful and high-quality?"
During fall 2022, the Yale Forest Forum asked "What Makes a High-Quality Forest Carbon Credit?" for temperate forests in the United States. This spring, YFF turns its attention to global carbon markets for tropical forests, asking "How Can the Voluntary Carbon Market Make a Meaningful Contribution to Protecting Tropical Forests?"
Series facilitator and Assistant Professor of Environmental Policy and Governance Luke Sanford names two key reasons for organizing this series. "First, there is a lot of discussion here around the unprecedented amount of time, energy, and money that is being invested in carbon markets and we wanted to get the community more involved and hear from people who are in the middle of it." 
"Second, it seems that if carbon markets work well, they have huge potential to distribute much needed resources to forest conservation while reducing the amount of CO2 in the atmosphere. However, if they work poorly, they have the potential to result in environmental injustice and make climate change worse. Understanding why they do or don't work is critical."
Series facilitator Frances Seymour, distinguished senior fellow at World Resources Institute, McClusky fellow at YSE, and chair of the board of Architecture for REDD+ Transactions, says "the conversation is live right now!" Seymour's career is centered on conserving tropical forests, especially in Indonesia; she has witnessed firsthand how tropical forest carbon crediting has "heated up" in the past few years. Seymour remembers the common questions regarding REDD+, Reducing Emissions from Deforestation and forest Degradation, plus the sustainable management and conservation of forests that arose 15 years ago. "Will carbon crediting harm Indigenous peoples? Will credits be used for greenwashing?" She explains that these questions "went dormant, but the questions remain and have been resuscitated." 
"The controversies are playing out right now, and various initiatives are trying to sort out what makes a high-quality carbon credit," Seymour explains. The timeliness for this series could not be more perfect; according to Seymour, "preliminary and final results of these initiatives will be coming out over the course of the spring semester."
To make sense of these debates, series facilitator Peter Boyd, lecturer at YSE and resident fellow at CBEY, describes the different carbon crediting approaches as legs on a stool. The first leg is a project approach to credits, where a corporate buyer can invest into a specific restoration project taking place in a particular place and point in time. The second leg is a nested, jurisdictional approach that utilizes the already existing REDD+ structure to incentivize countries to reduce forest degradation and to protect intact forests through carbon credits. Examples of such frameworks and benchmarks with international standards include the Architecture for REDD+ Transactions (ART), Verra's VCS Jurisdictional and Nested REDD+ (JNR) Framework, and Wildlife Conservation Society's verified emissions reductions (VER) portfolio. The third leg is sovereign REDD, which leaves the transactions to individual nations as part of their nationally determined contributions (NDCs) under the Paris Agreement, under programs like REDD.plus. 
When asked how these approaches, or legs, may or may not balance out, Boyd suggested that we look at what each does well and perhaps view them as a diverse portfolio of differing carbon credits to choose from.
For spring 2023, series facilitator Sara Kuebbing, research scientist and director of the Yale Applied Science Synthesis Program, reflects on the fall 2022 series that focused on U.S. carbon markets. "Having two YFF's on carbon markets doesn't do it justice. The space is so rapidly evolving."
As we prepare for the spring, Kuebbing says she "hopes the audience will take an understanding of the most current issues coming out of the last COP in Egypt and points of discussion for tropical forest investment and protection." She also hopes that U.S.-centric attendees see the importance of tropical forests globally. "When we're talking about climate change, we have to think beyond the U.S. We have to act locally and globally." 
Series facilitators Boyd, Gentry, Kuebbing, Sanford, and Seymour have gathered a rich variety of speakers. Seymour explains that speakers include those who are "active participants in these prospective market ecosystems" in potential supplier countries, are potential buyers, represent projects, project developers, and proponents of jurisdictional approaches, and Indigenous communities in direct relationships with these forests. 
In this series, The Forest School continues to explore ways to engage on topics that are confusing to the public, says Gentry. "We hope to clear some of that confusion toward improved forest management." "We want to have major perspectives presented and orient the audience toward coming to their own conclusions." The facilitators voice their shared goal to create a space for learning and finding commonalities.
Seymour is particularly hopeful that those making decisions on carbon crediting will have a more nuanced understanding of how to make those decisions by attending this series. She hopes that "the speaker series will provide a comfortable way for people to have their positions challenged in these positions and learn to recognize the legitimacy of different points of view and that all of these questions are complex and involve balancing various kinds of risk." 
Boyd believes we are in the midst of the "decisive decade." "There's a few big things we need to do and saving the world's tropical forests is one." 
We look forward to seeing you at 11:30 am ET U.S. on Thursdays starting January 19 for "How Can the Voluntary Carbon Market Make a Meaningful Contribution to Protecting Tropical Forests?" The full line-up of speakers and details can be found here.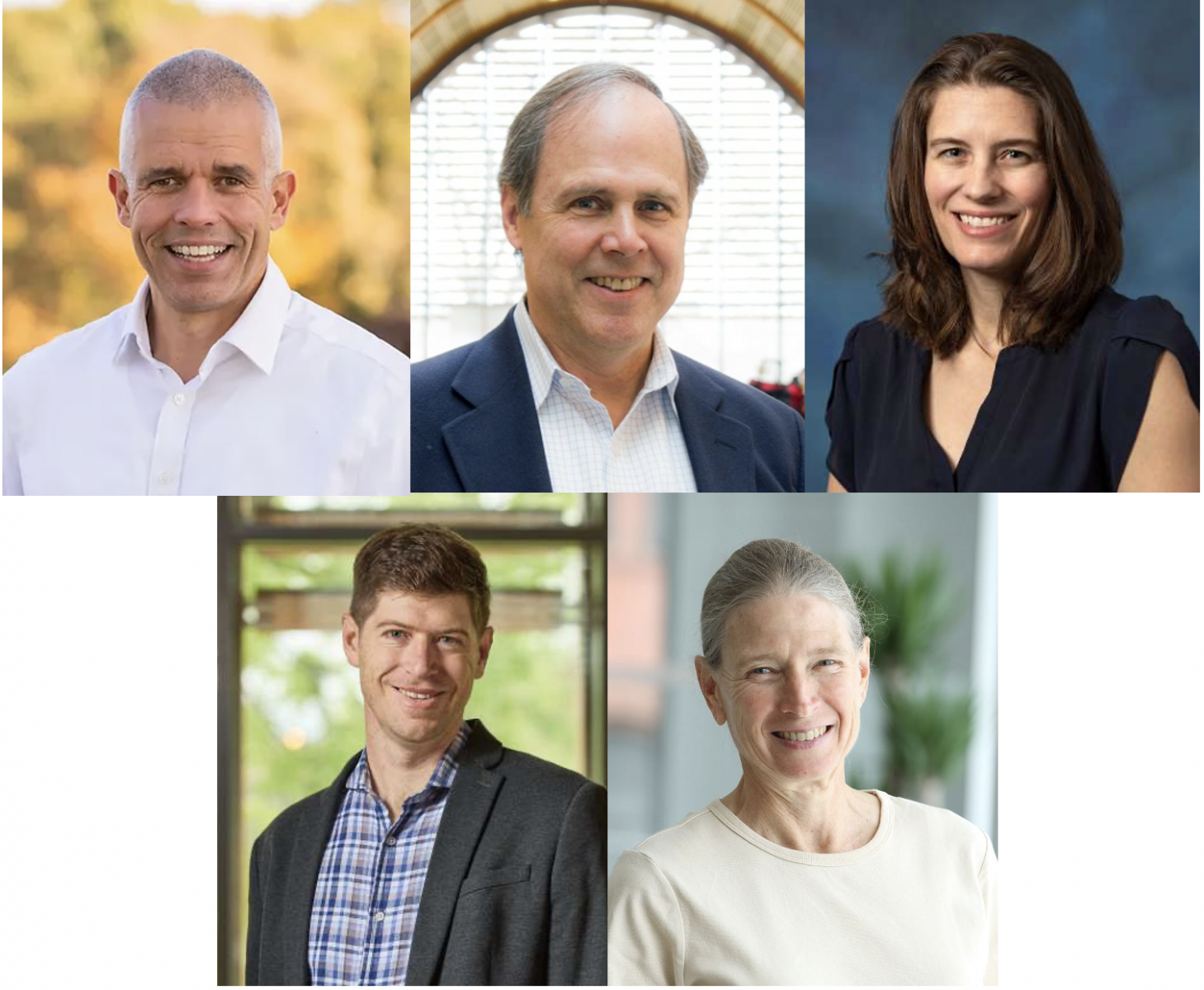 This speaker series' facilitators are Peter Boyd (Yale/CBEY), Brad Gentry (Yale/CBEY), Sara Kuebbing (Yale/YASSP), Luke Sanford (Yale), and Frances Seymour (WRI). 
---
The series is hosted by the Yale Applied Science Synthesis Program, Yale Center for Business and the Environment, and The Forest School at the Yale School of the Environment.