Join us online every Tuesday from September 6 – November 15 from 11:30am–12:10pm U.S. ET to learn about planted forests from various experts.  
The Forest School at the Yale School of the Environment (TFS at YSE) and The Forests Dialogue (TFD) are no strangers to understanding planted forests. These intensively-managed, large-scale planted forests have historically been and continue to be important for fiber and wood-based products. In the future, these forests will likely play multiple roles, especially in a bioeconomy. However, current plantation systems have challenges, particularly social and environmental concerns, especially with the possibility of plantation expansion. 
This fall, the Yale Forest Forum continues its series on "The Future of Forest Products and Climate Change" with "(Re)Considering Planted Forests" as its third consecutive speaker series, following mass timber and bioenergy. 
"This series takes a step back and thinks about how forest products are grown," explains The Forest School's and The Forests Dialogue's Executive Director Gary Dunning. The Forests Dialogue has been examining the underlying challenge of forest products in a changing climate, questioning how climate change is affecting how forests grow, and discussing how that influences society's demands on forests. Dunning describes the central question of this speaker series to be: how will planted forests "innovate" to keep up with the growing demand for timber products and address persistent social and environmental challenges? 
To answer this question, TFD and TFS draw upon the knowledge, experiences, expertise, and networks of professionals in this space through the Yale Forest Forum. Expected takeaways from this fall's series include: 
Exploration of innovation in the sector 

Understanding of the economic and ecological opportunities and challenges of the future of planted forests – with climate change as an umbrella 

Deeper examination of social and community concerns and solutions related to planted forests 

Orientation of forest products in the circular and bio-economies 
"To understand the future of planted forests not only as providers of forest products but as having new roles in the circular and bio-economy, implies deep reflection about the development, growth, and implications of planted forests," says Ivone Namikawa, who serves as a co-chair of The Forests Dialogue's steering committee and as forest sustainability senior consultant for Klabin. Namikawa, Dunning, and Professor of Silviculture and Forest Ecology Mark Ashton are co-organizing and co-instructing this series. 
Through the Yale Forest Forum webinar series, participants will receive a great overview and coverage of all the salient issues related to planted forests.  
In spring 2023, this series will continue with a collaboration with the Food and Agriculture Organization of the United Nations (UNFAO) focused on issues related to smallholders' experience with planted forests primarily in the tropics, rather than industrial scale forestry. The entire series will end with a focus on pulp and paper likely in fall 2023. 
More information on the series, including the speaker schedule, can be found here.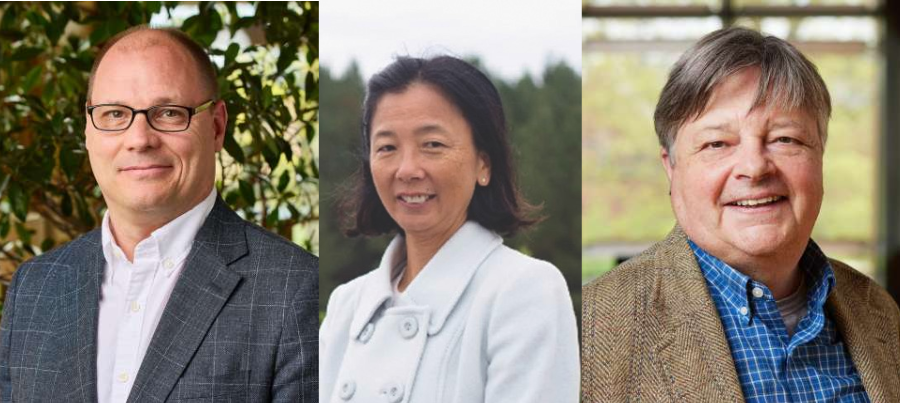 This speaker series' instructors are Gary Dunning (left), Ivone Namikawa, and Mark Ashton.
---
The Forests Dialogue is an NGO associated with The Forest School at the Yale School of the Environment. TFD has been working on the topic of planted forests since 2005 starting with their initiative entitled Intensively Managed Planted Forests. Ten years later, they completed an assessment on the progress made following that initiative. As a result, TFD then developed the Tree Plantations in the Landscape Initiative exploring how to practically apply a landscape-based approach to planted forests.