Marlene and I sit watching the water as it slowly steps down stream. She is sitting on a new bench with her arm draped across the back, looking at me, at ease and in command.
 "This is my bench," she tells me. She likes to watch the water here and to see who is coming to spend a quiet moment in the New Haven Botanical Garden of Healing Dedicated to Victims of Gun Violence. This is a place devoted to the victims of gun violence in New Haven. It is a beautiful park, and a somber one. It is necessary.
The bench is on a new trail that runs a few hundred meters next to the West River over on the west side of New Haven. The river crosses under Valley Street just upstream and then turns, slows down, and follows alongside the curve of Valley before heading under Blake Street and down to meet the Long Island Sound. The benches and the mulch for the path under them were provided by the Urban Resources Initiative at the Yale School of the Environment, which also offers technical and logistical support for the weekly volunteers who maintain and expand this place. They get some soil on their hands, cut vines, carry loads of mulch, and plant a few trees.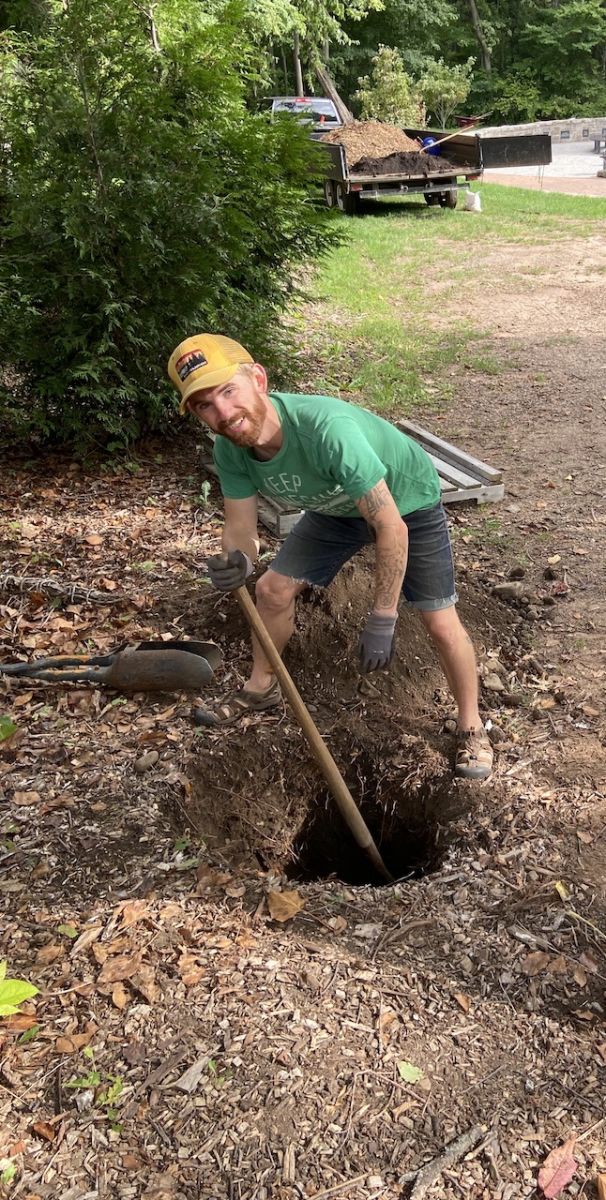 Divinity student Tyler Mark Nelson joins with others from his church, St. John's Episcopal, to volunteer in the garden. He says he finds joy in "coming together to share labor on land."
Yinhao Wang '24 MEM takes his turn with the shovel.
At the heart of the effort at this Garden is a group of mothers, including Marlene, who have each lost children to gun violence. Now they hope to provide a place for healing, remembrance, and catalyzing change.
Celeste is one of the founding members of the mothers' group. She wants more people to notice the face of West Rock and have a reason to look up. As we talk two falcons circle from the cliff. She says she likes to say hello to the ducks.
Each year the mothers visit Yale School of the Environment students during their orientation, and URI helps organize opportunities for the masters students to volunteer at the Garden. The students hope they can give back in a day of service and connect with the city where they live.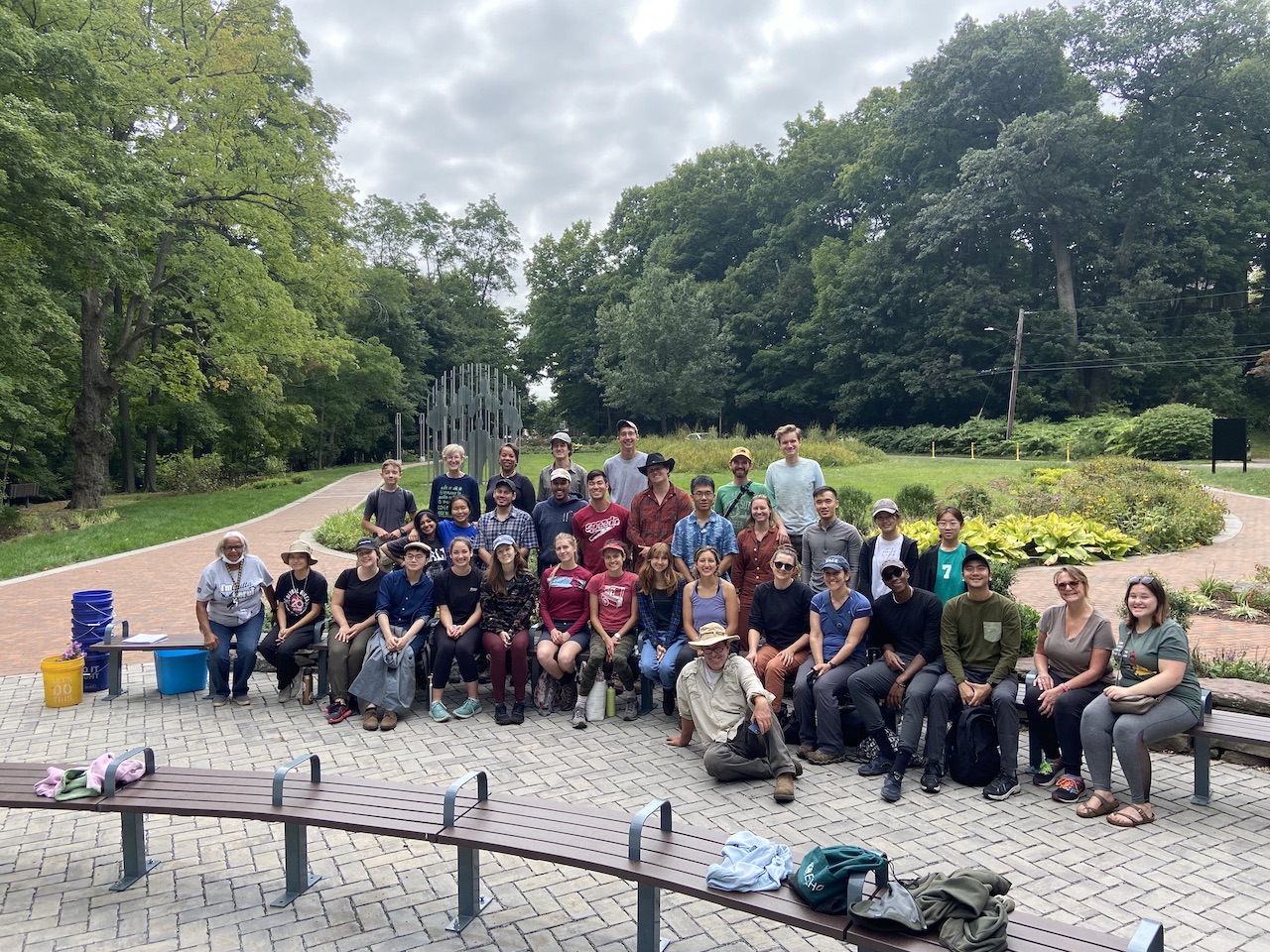 Students visited the garden this year as part of the ongoing September of Service volunteering series which is led by YSE students.
While helping dig a post hole for a new gate on Valley St., Esaac Mazengia '24 MESc spoke about how research on environmental justice issues feels more empowering when paired with direct action. "It makes me feel like I'm able to be present, especially when the issues I'm researching can be discouraging."
Nearby Mizzy Almaazmi '24 MESc helped a group of students spread grass seed on a patch of bare earth. "Coming from a country where gun violence isn't an issue, I was moved by the mothers' story and wanted to keep involved. I can't imagine what they went through, but I admire their bravery in trying to make sure others don't have to."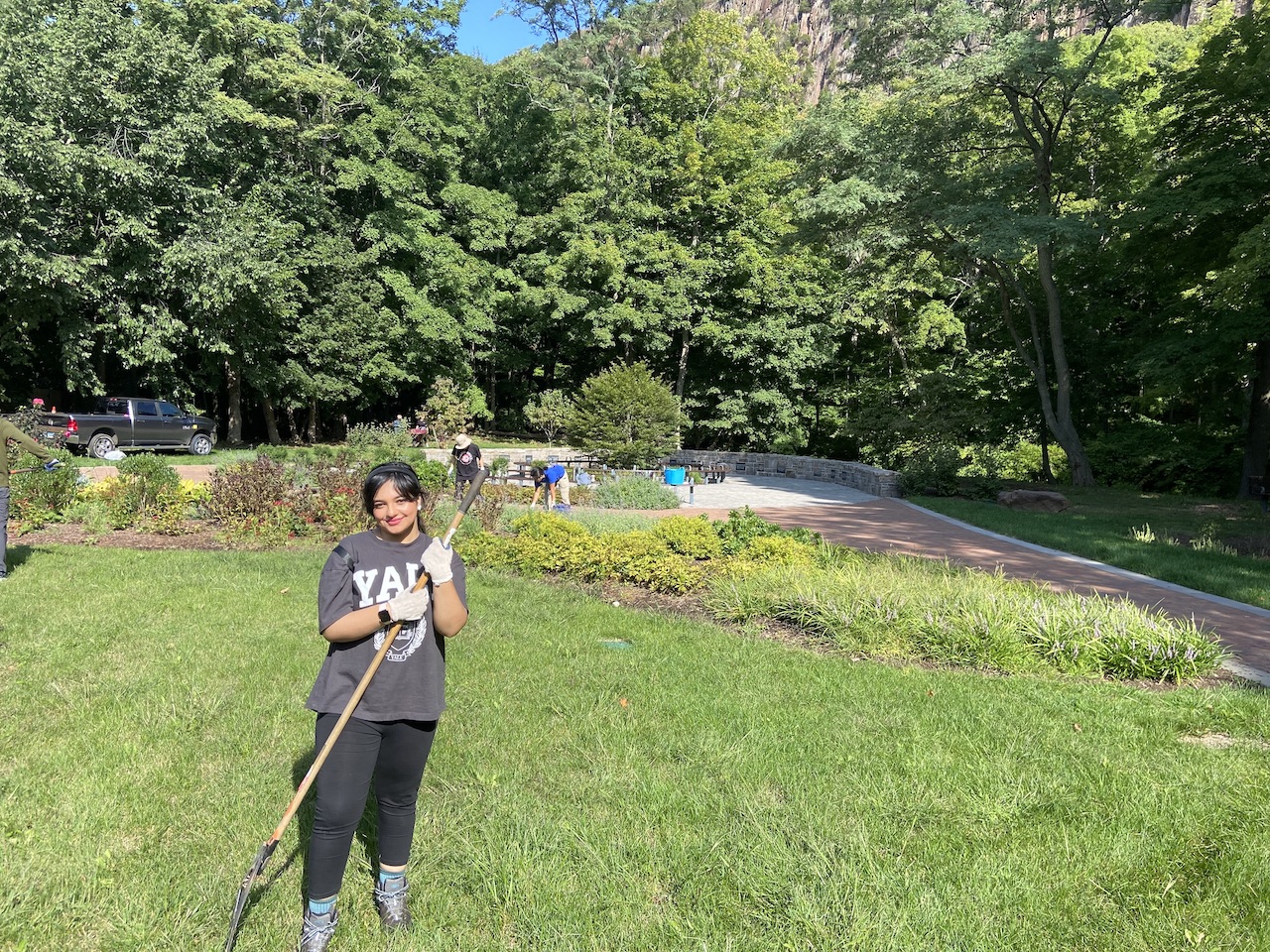 Almaazmi with her grass-seed rake I front of one of the Garden beds.
Arcadia Davies '24 MEM reflected on the need to pair human healing with earth healing, and the restful, peaceful energy of care cultivated in the garden. She said every once in a while, we need time "out of the head, hands in the earth" if we want to restore land and community in the places we live. Lauren Phipps '24 MEM agreed, she told me, "Any environmental work needs to start from a lens of justice."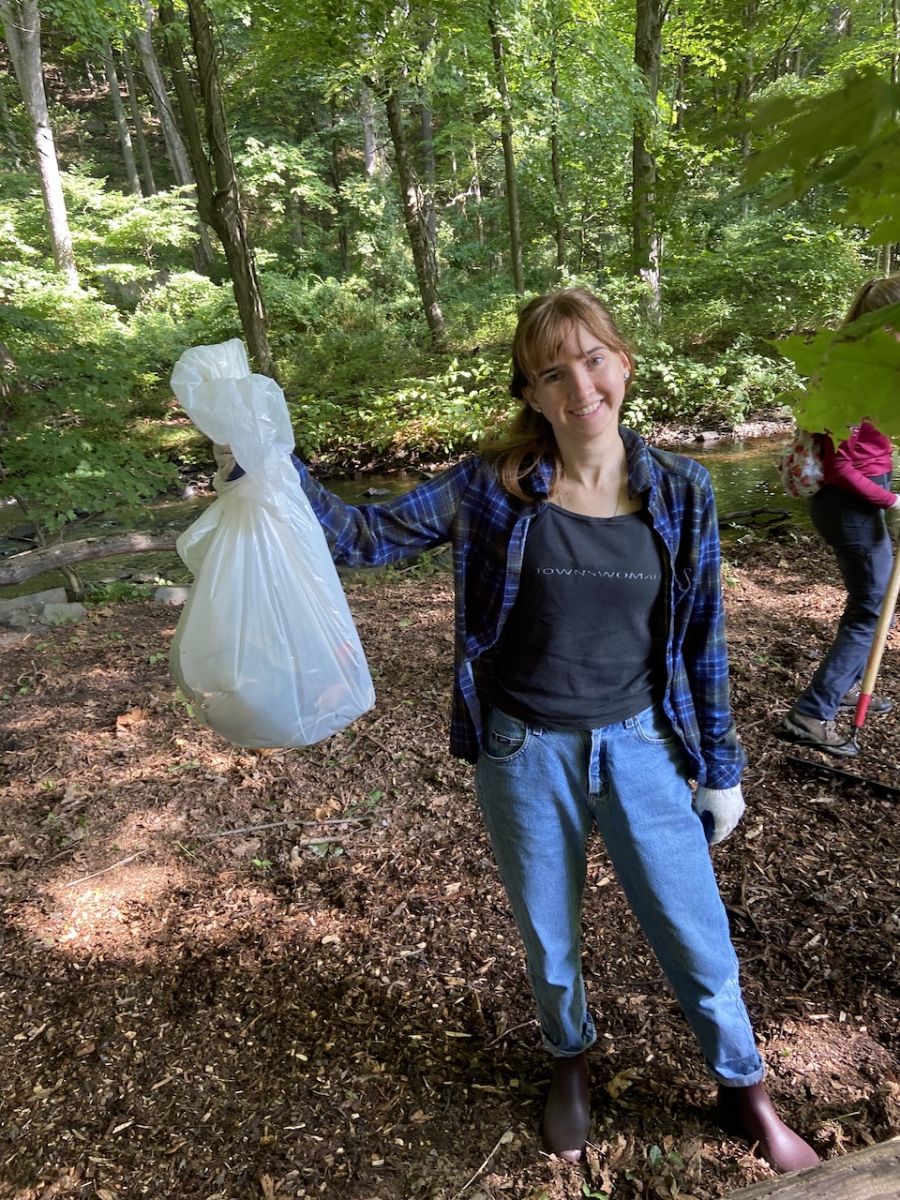 Arcadia Davies '24 MEM and Vincent Haller '24 MEM help out in the garden by removing trash and invasive plants.
Each year the Garden grows, the flowers bloom, new paths are cut. But each year, new bricks are added to the walkway too, inscribed with names for those who have been lost that year to gun violence here in New Haven. In 2022 there were 13 lives lost to gun violence in New Haven, down from 26 in 2021.
As you walk the path through the garden, you read the names of victims of gun violence in New Haven.
A statue in the garden depicts a family disrupted by gun violence.
The garden is a place where people can read the name of someone they have lost, and quotes inscribed on granite blocks help them find a piece of that person as they were in life.
Quotes from victims' loved ones help others who have lost someone find connection and solace.
The garden is growing in other ways, too. This year invasive Japanese knotweed and brambles were cleared from a stretch of the riverside, mulch was laid down, shrubs and flowers planted, and a trail was built creating a softer, quieter pathway in the shade of the river trees. The path leaves behind the rush of Valley Street and wanders down through a patch of woods to the stream's edge, deep in the shadow of West Rock's face.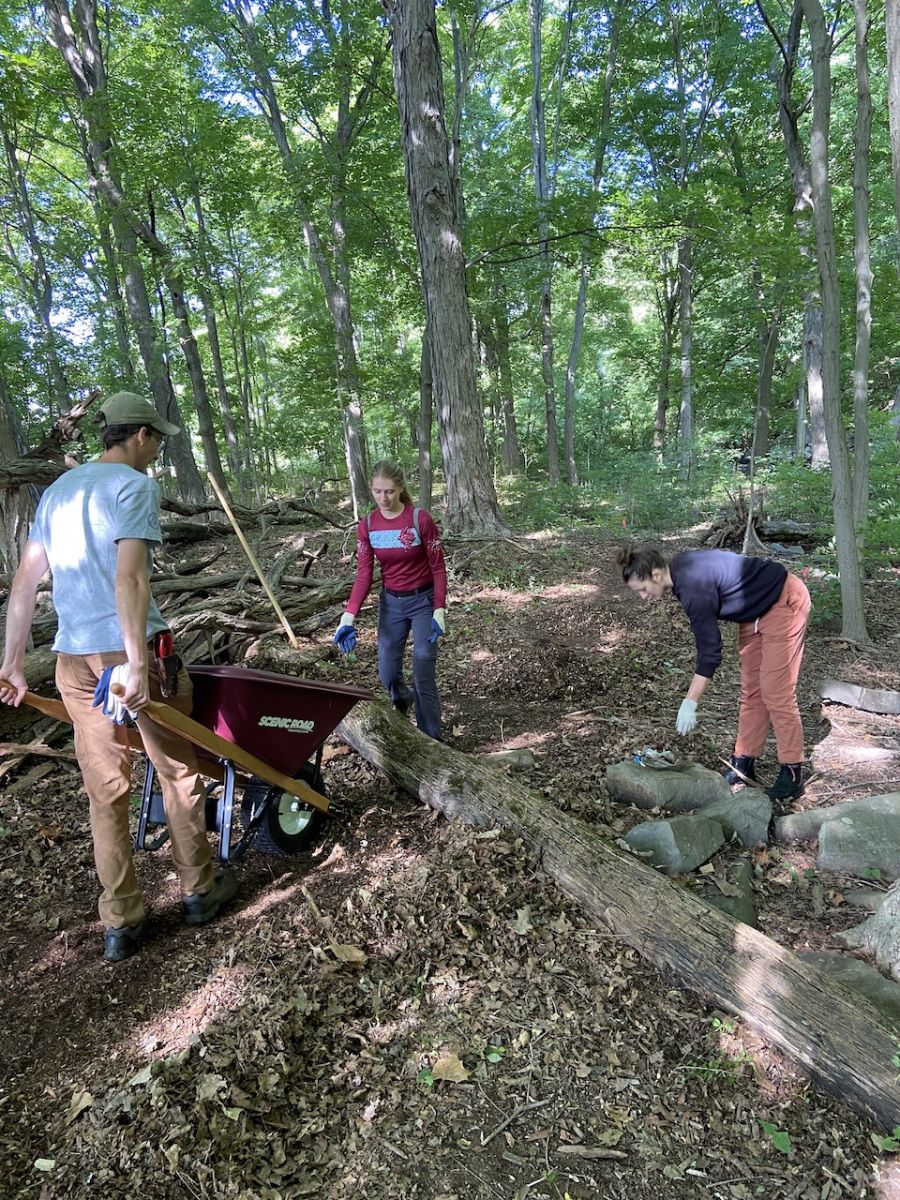 Gabe Lepage '23 MDiv/MEM, Amanda Wik '24 MESc, and Lauren Phipps '24 MEM help build out the forest trail.
Colleen Murphy-Dunning directs URI, and often comes out to volunteer as well.
A view of the back side of the garden from the trails in West Rock State Park, just across the West River.
August Organschi '24 MEM reflected "I grew up here and played little league across the river there, I remember when this was just an open grassy area. It feels good to see change in a place I love, my hometown."
Organschi and Dorje Wu '23 MEM watch as URI's Chris Oczyk shows how to dig a post-hole for the new Valley St. gate.
There's an even more curious thing that's happening in this small park on the roadside in what used to be an open space. When people gather here, the place holds their sorrow and their will to do better; it is a container and a physical space for confronting gun violence, grown deep in weeds and wildflowers. People of all backgrounds come here to walk for just a moment, vigils and workshops are held here for social change, local officials meet people in the Garden to talk about solutions. When Congresswoman Rosa DeLauro (CT-03) announced that she was taking Ethan's Law, a Connecticut gun safety law signed in honor of Connecticut teen Ethan Miller Song, to the US Congress, she did so alongside Ethan's parents at the Botanical Garden of Healing.
As students worked, some drivers slowed down to yell out their window "Good Job" or "Keep going!"
Others have begun to take notice. The weekend prior to my visit, a group of mothers from Philadelphia, who also have lost children to gun violence, came to see the Garden and learn what they could from the place and the women who are tending it. The problem of violence is complex, stemming from long histories of laws and disharmony and social inequality. Black women have long been asked to heal and stitch together communities ruptured by systemic violence and racism. Marlene hopes that people who visit the garden also realize the need for mentorship for young people, for helping them learn coping strategies, for giving them spaces to breathe in.
We have a human need for places to slow down and heal. Marlene remembers time spent in the Marsh Botanical Garden, to remember her son, before she even conceived of the idea of creating the Botanical Garden of Healing.
This fall in the Garden we were sitting on a downed log, right down at the edge of the river. Watching the eddies swirl in the dark water, Marlene said she feels her son is with her when she can see the flowing water. "My son is my force to bring change." She says she does this because she doesn't want anyone else to have to feel what she has felt, because she can feel him urging her on.
Ripples and eddies in the West River.